RFM Analysis - Marketing Strategy

The RFM analysis stands for recency, frequency and monetary value. RFM analysis is a marketing technique to identify the best customers and perform targeted marketing campaigns. RFM analysis helps marketers to increase revenue by targeting specific groups of existing customers. By using RFM segments you can get idea about your marketing strategy.


R (Recency): Last Day Of Purchase
F (Frequency): Total Number Of Purchase
M (Monetization): Total Amount Of Sales
How RFM Segments Can Help Your Business

More loyal customers: This is another customer segment, Sometimes we need to show some attention to customers and make them feel special. With RFM analysis, you can identify this audience and use your advertising and promotion activities to reach them.
Your big spenders: You can use this segment for your special customers to shows them luxury offers & higher subscriptions that increase sales.
Your newest customers: Using this segment you can send welcome email to your newest customers that helps to make good bond.
Faithful customers: Customers who have purchased recently are more likely to buy again so you can focus to increase monetization by last purchases products.
Benefits Of RFM Analysis

Increasing Revenue: If you want to increase revenue, you need to increase sales, You can easily identify the target audience among your customers by using RFM analysis.
Improve Conversation Rates: By sending coupon & offers mails you can make conversation rate better with your customers.
Marketing Campaigns: Easy to handle marketing campaigns by creating different campaigns for different targeted audience.
Features

Easy to manage marketing campaigns for the target audience based on RFM analysis.
You can increase your sales by RFM segments.
You can track sales quotation by customer segments.
It helps to increase revenue & profit.
You can increase conversation rates by engaging with customers regarding offers.
You can generate RFM report for specific customers between any date range.
You can generate RFM history for better analyze.
This module saves your important time.
Videos

Go to sales > configuration > RFM analysis configuration.
Set range values for recency (last day of purchase) analysyis.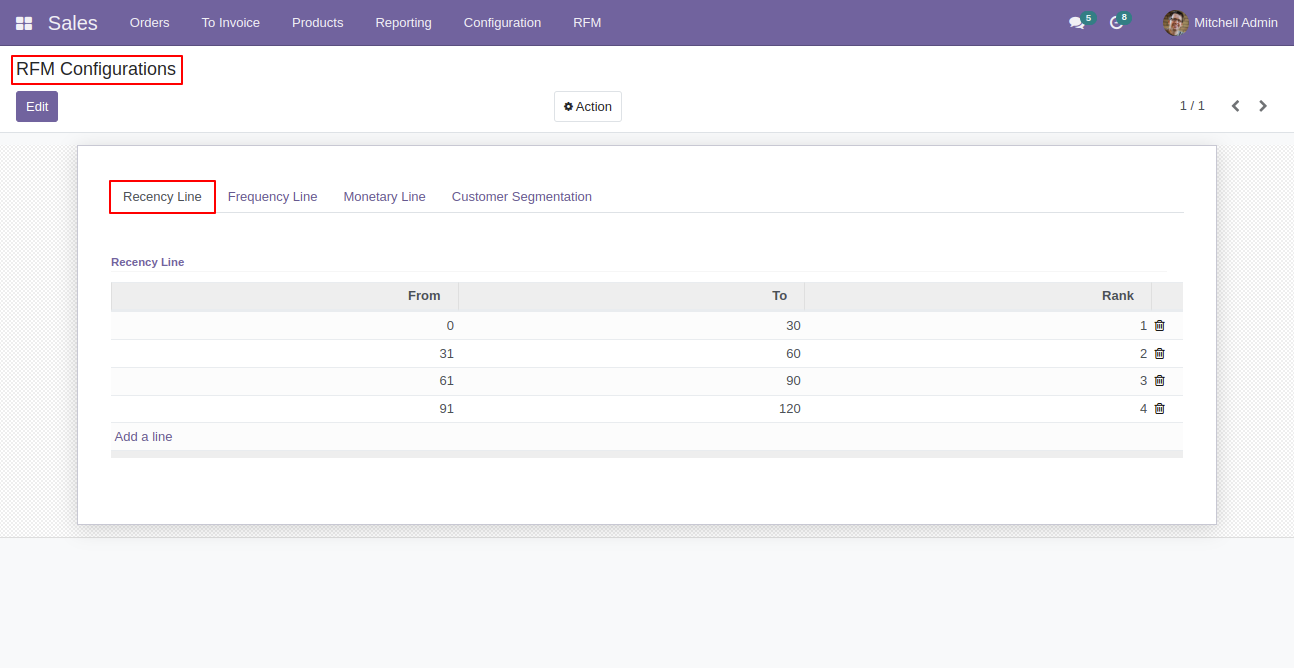 Set range values for frequency (total number of purchase) analysyis.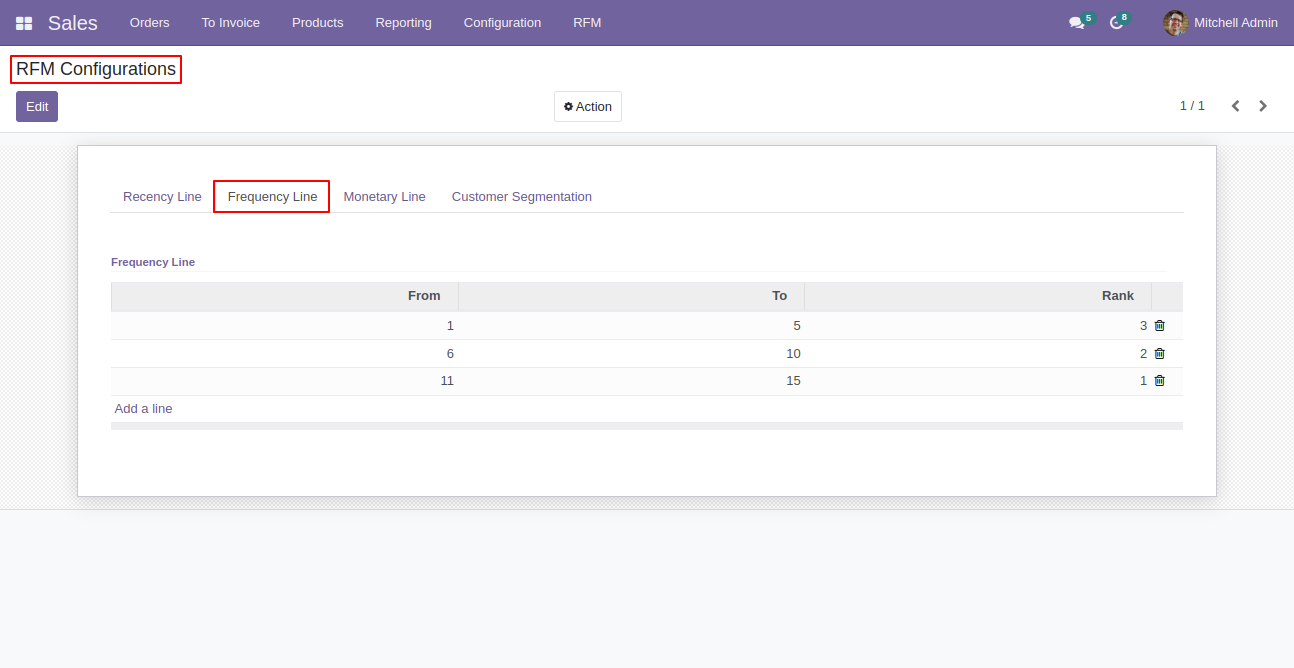 Set Range values for monetory (total amount of sales) analysyis.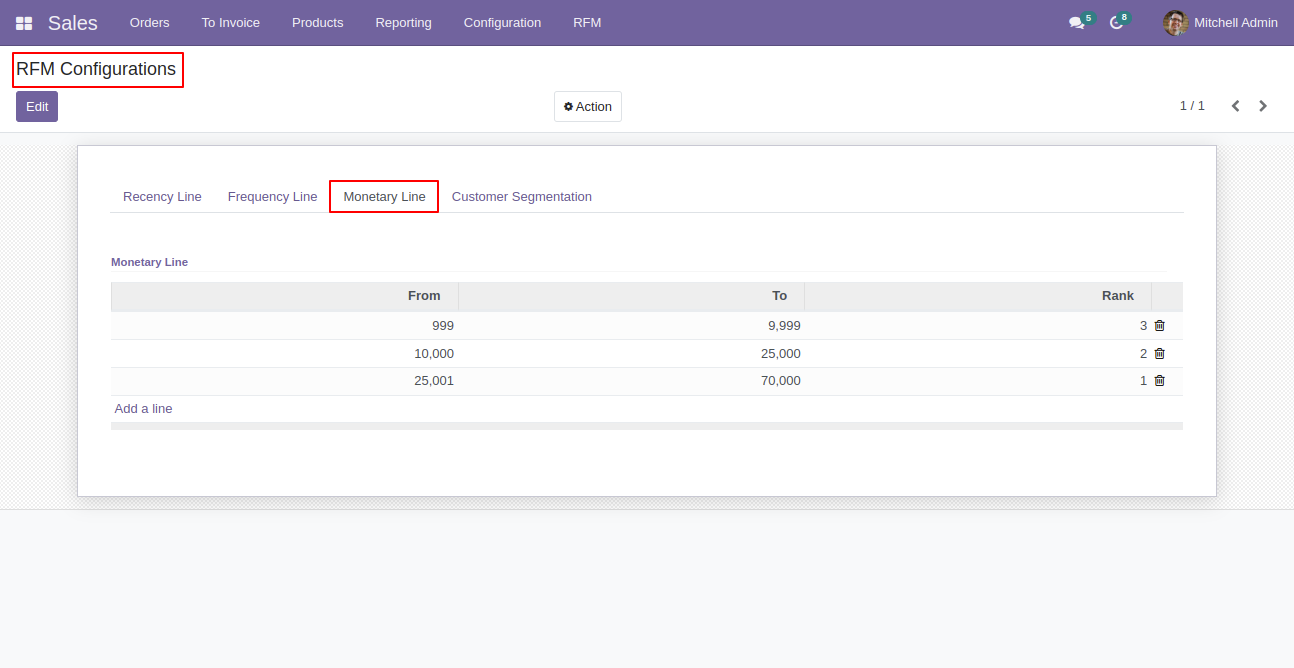 Set Segment and define its ranking parameters.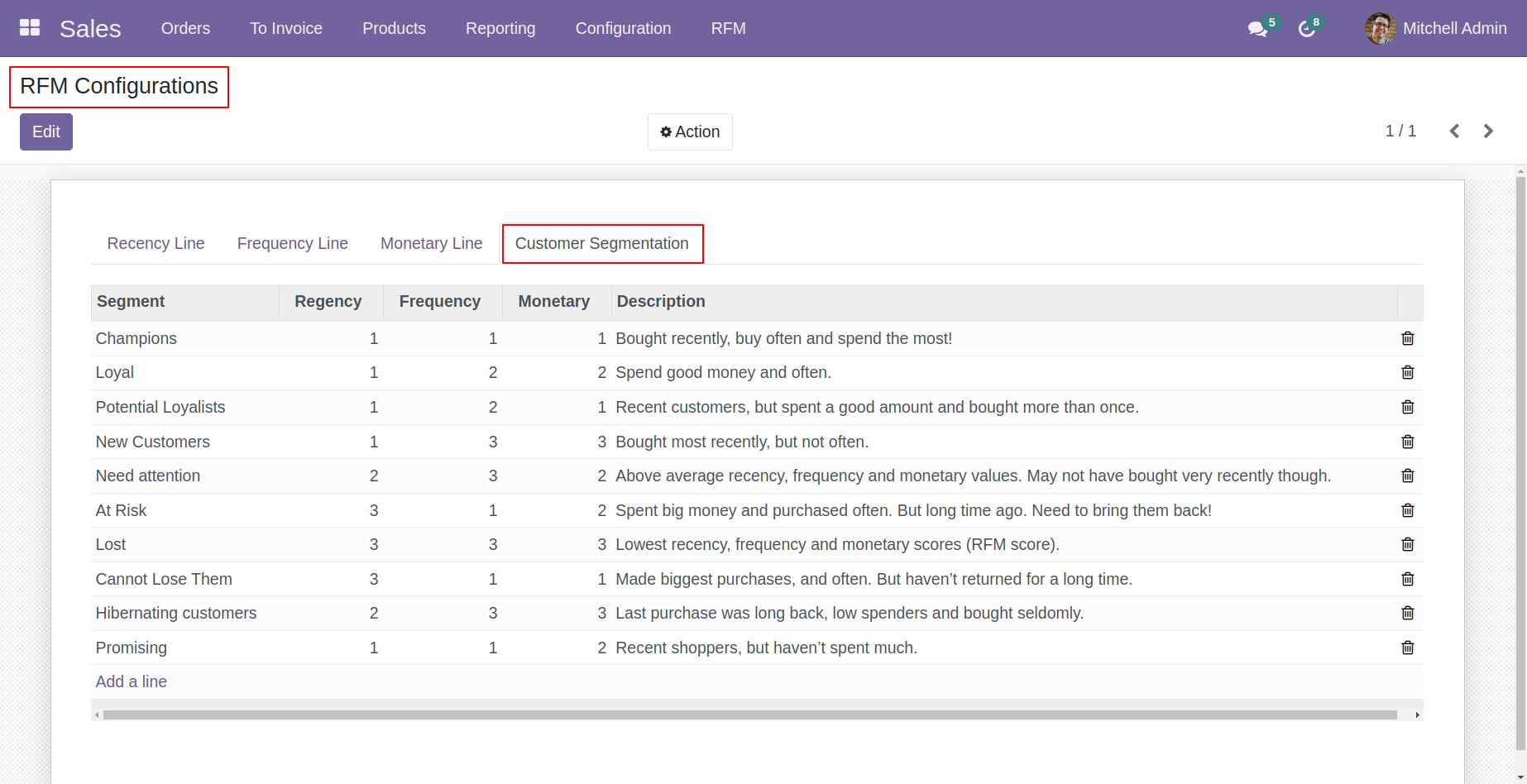 Go to RFM menu and click on RFM analysis.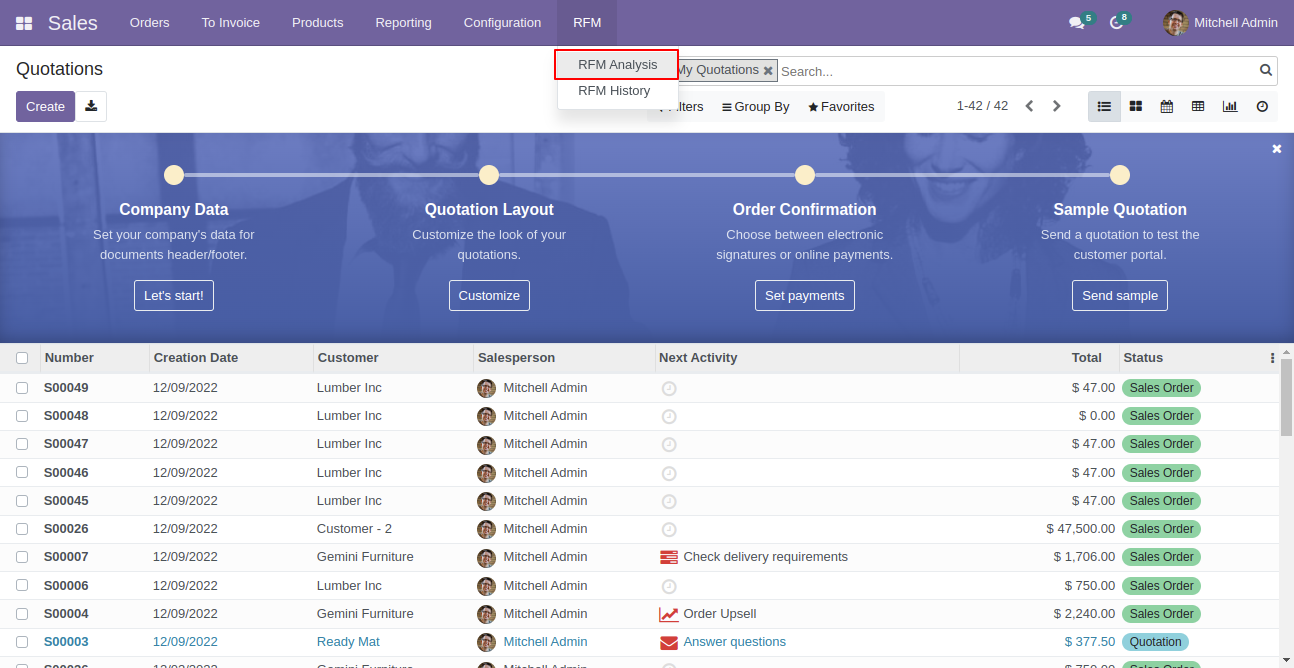 RFM analysis wizard will open, select from and to date for analysis.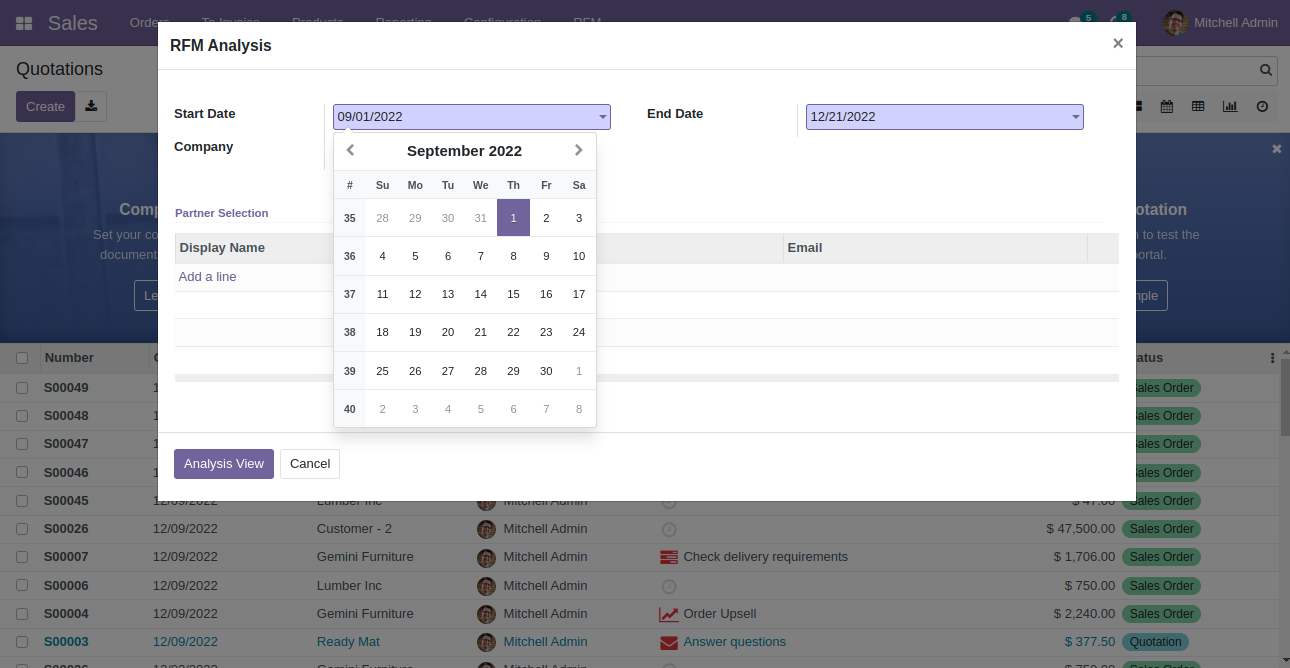 If you want to do analysis for specific customers than select them in partner selection.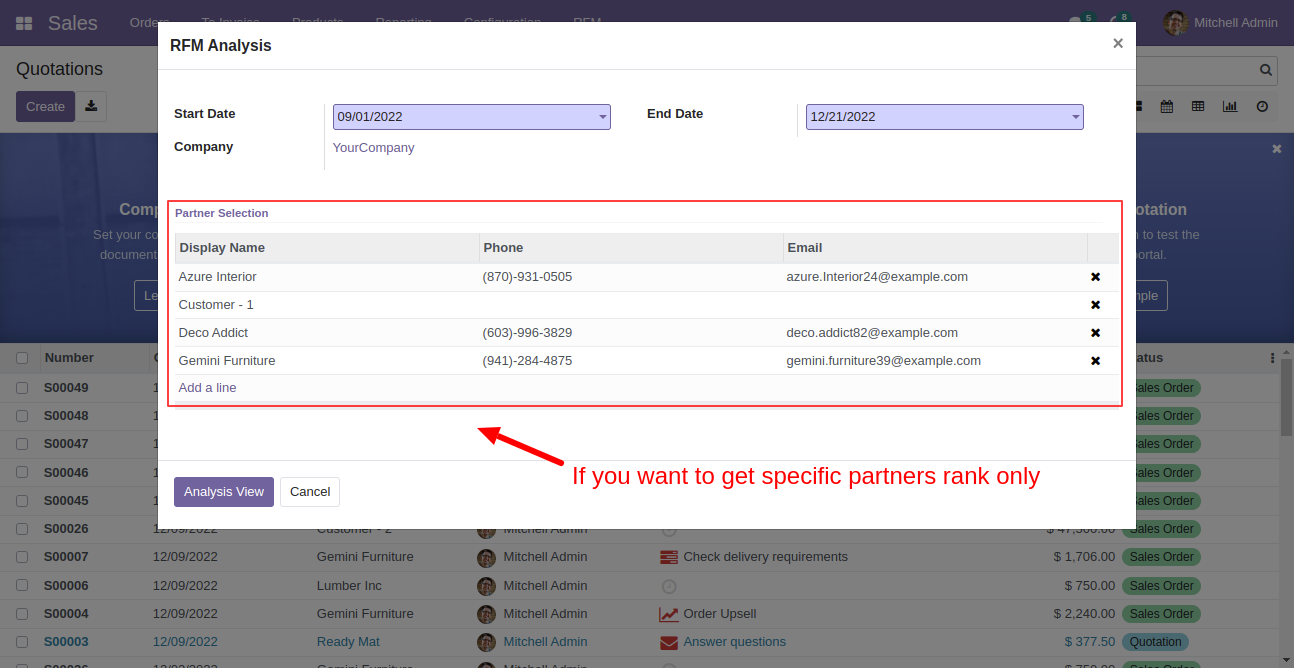 Analysis of specific customers looks like below image.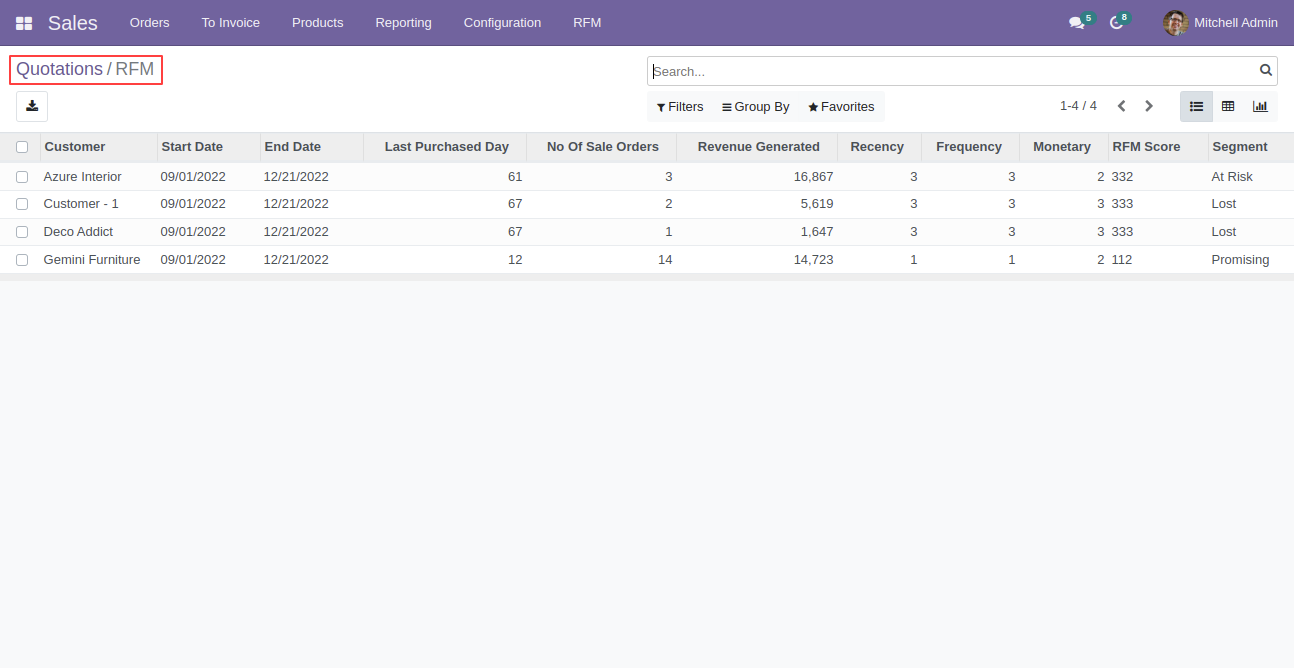 To run analysis for all of your customers dont select any customer in partner selection. Just select from and to date.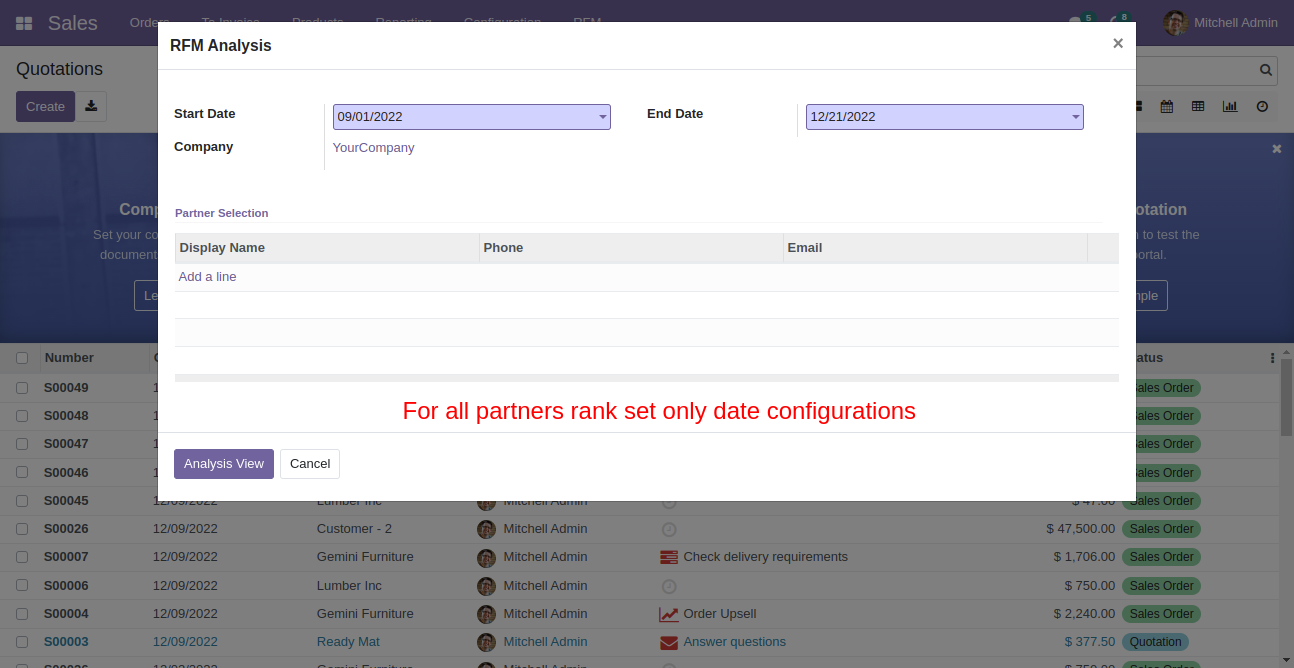 RFM analysis for all customers looks like below.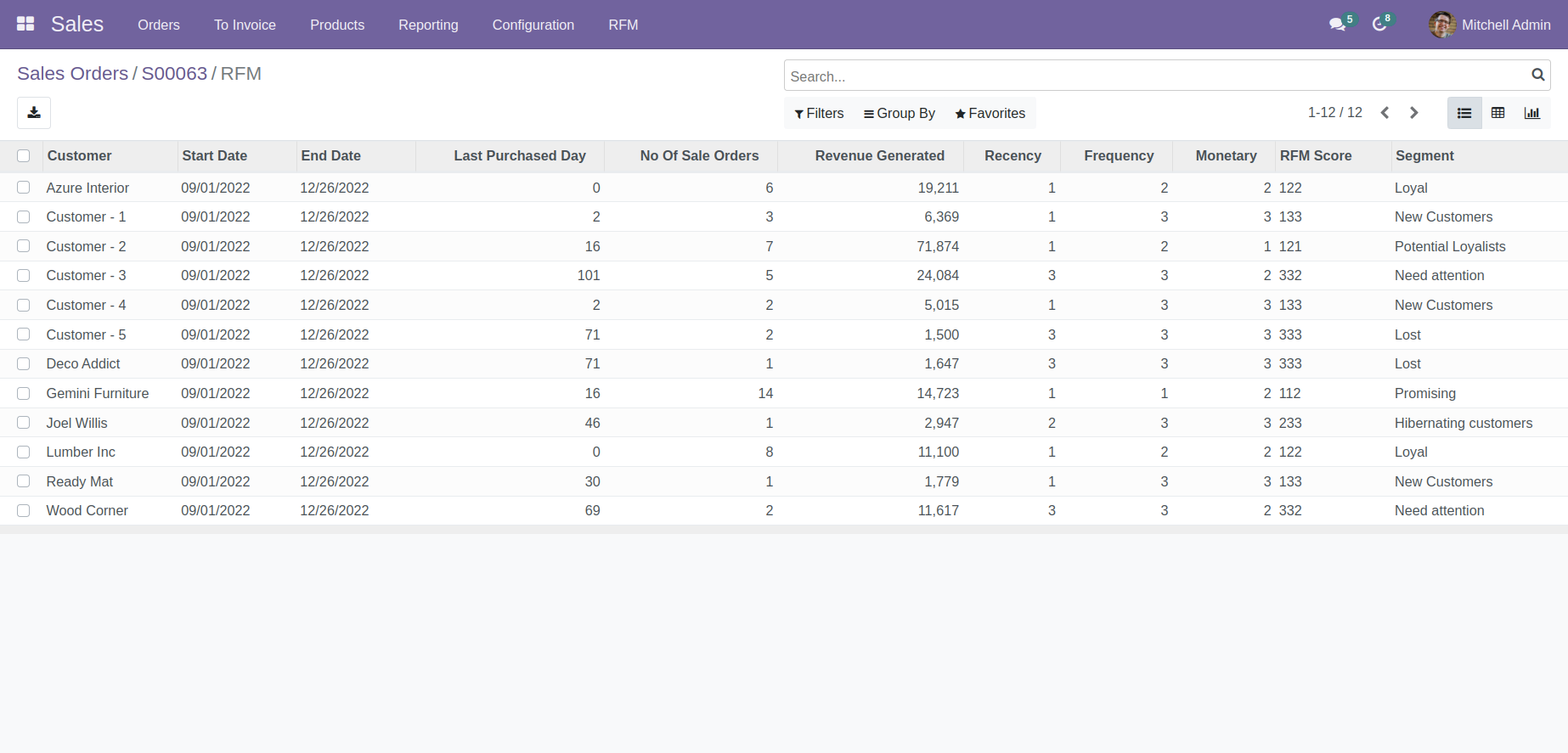 You will get notification if any customer rank is not covered in any of defined segments.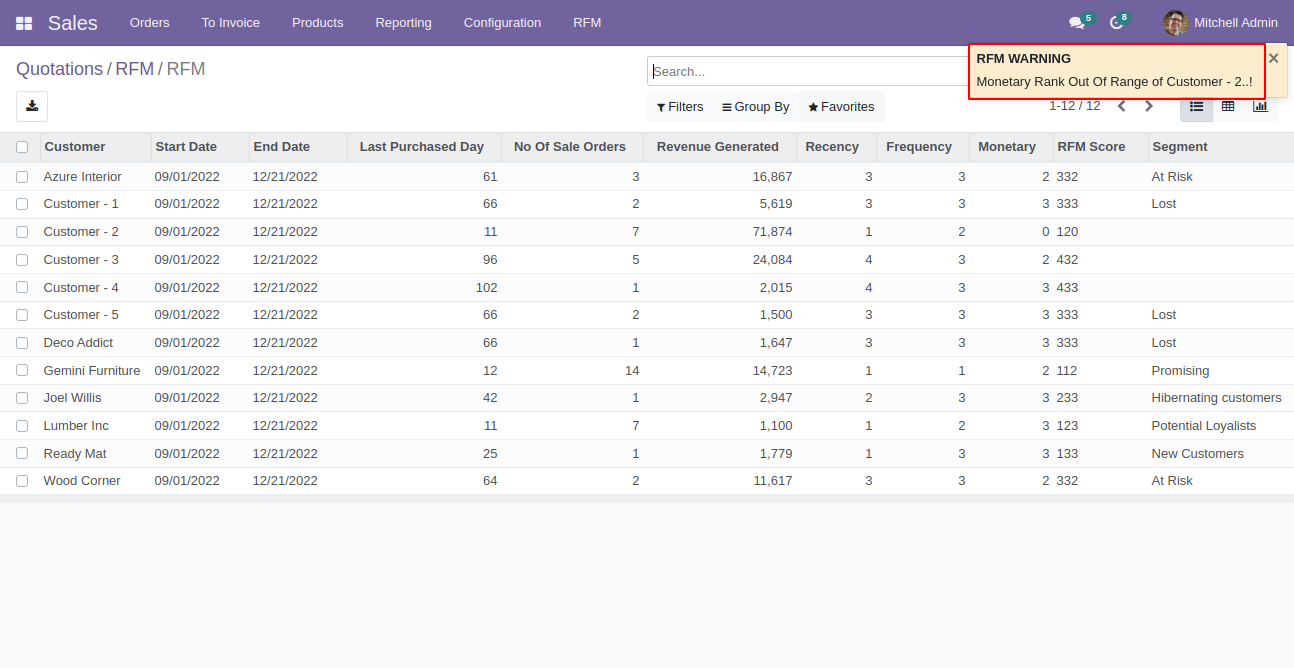 Go to RFM menu and open RFM history.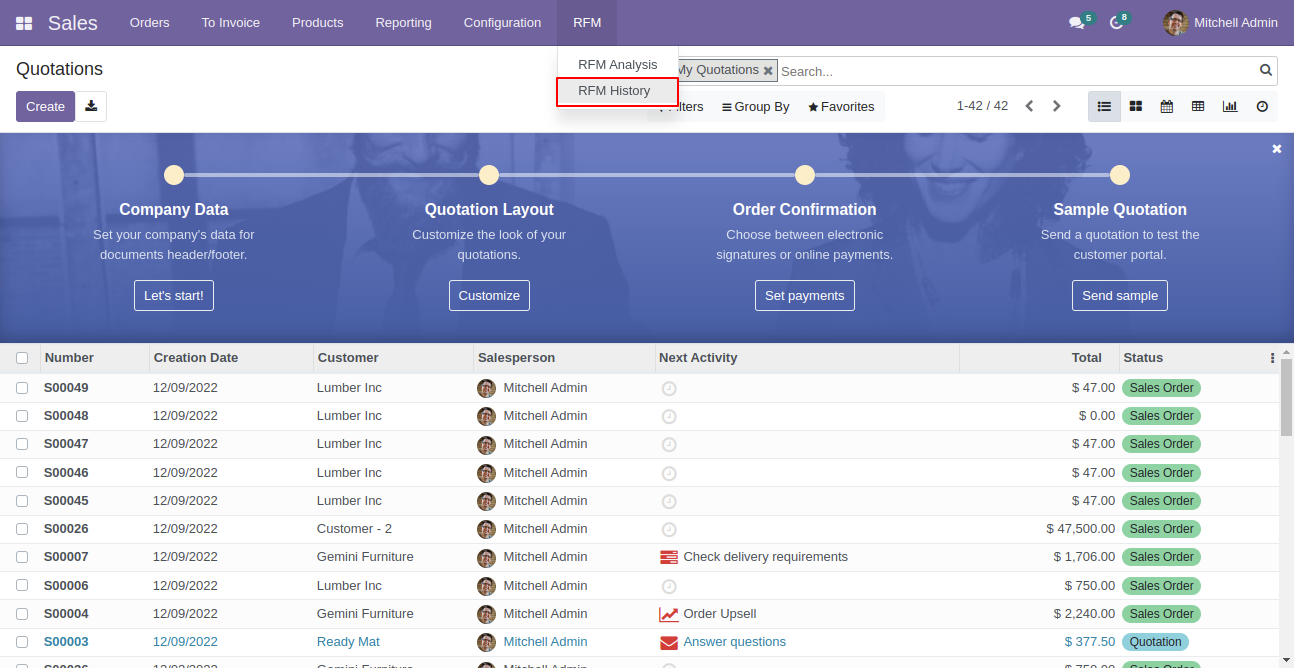 You can group by customer according to segments under RFM history.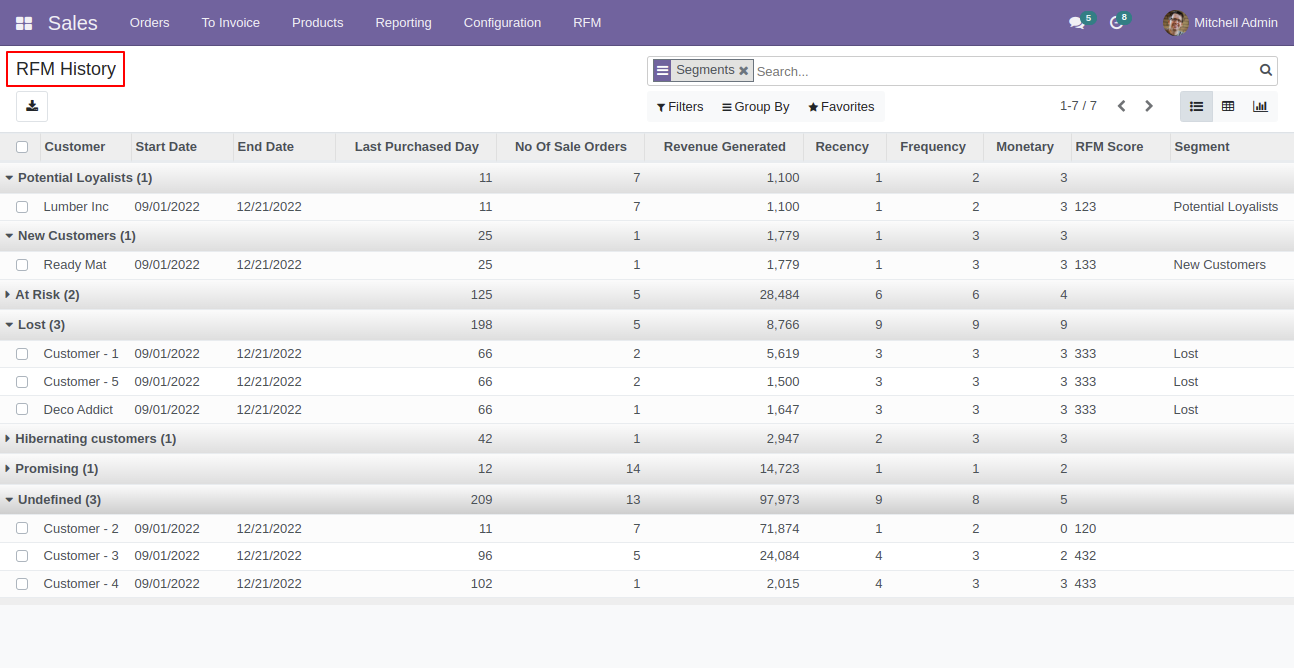 Pivot view of RFM history.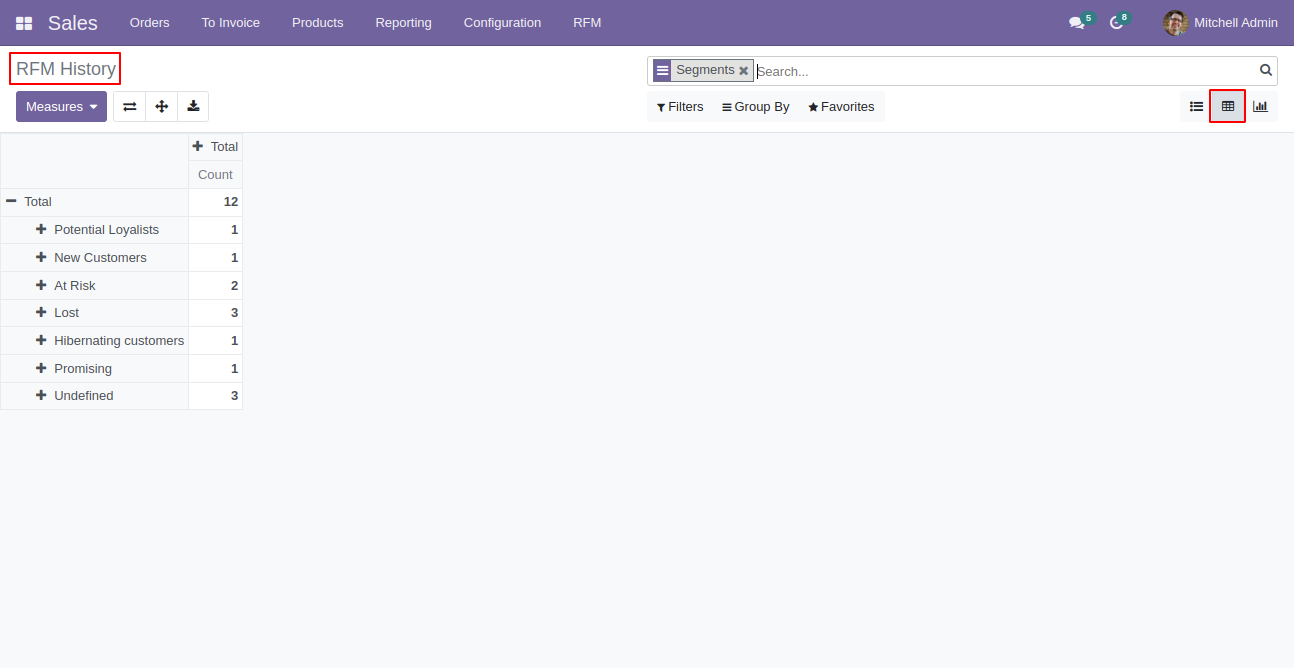 Graph view of RFM history.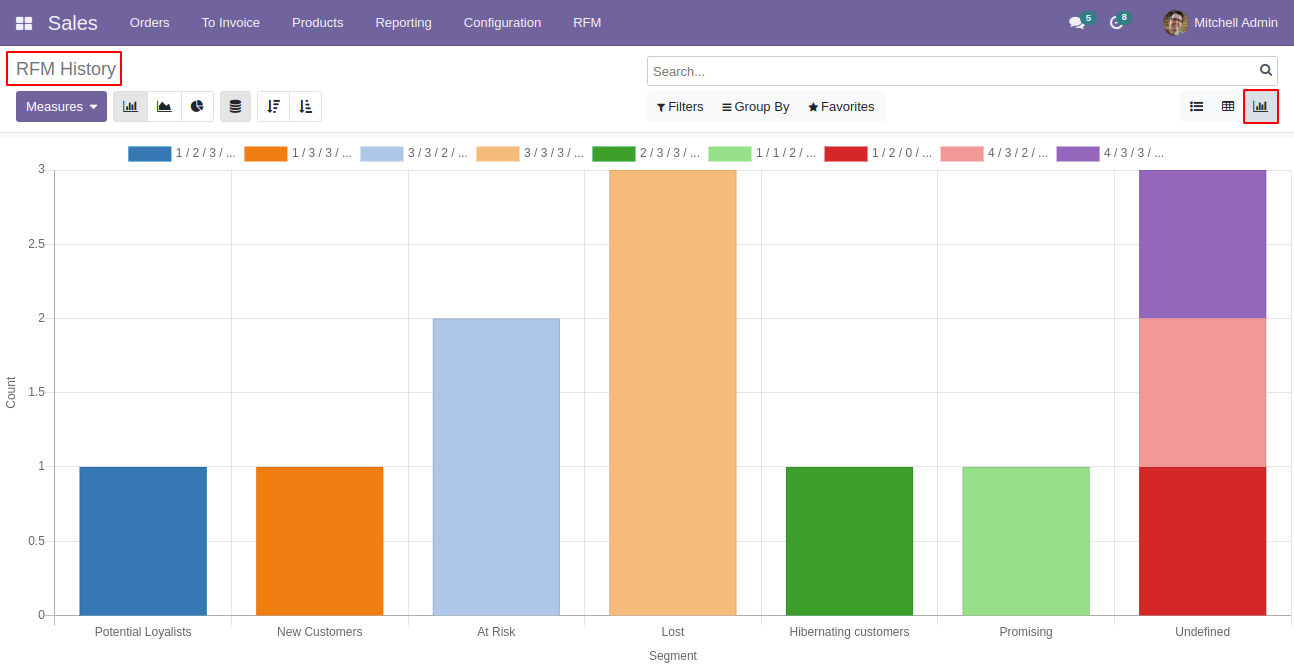 Graph view of RFM history.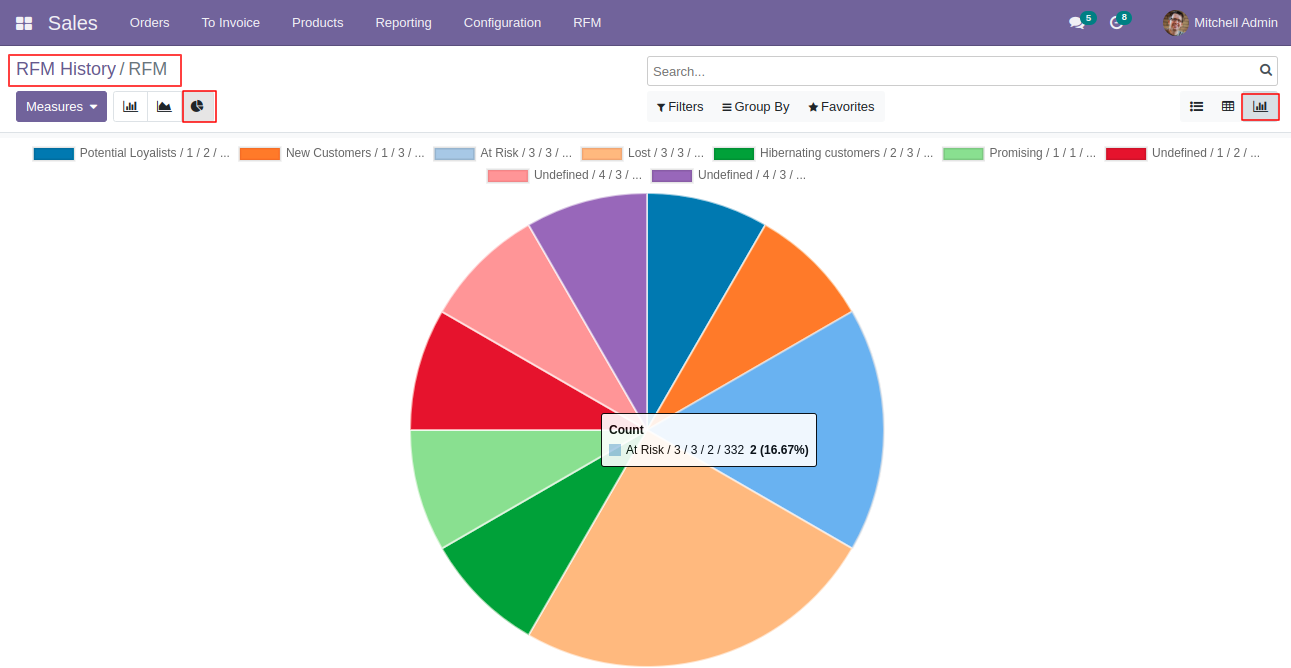 If you want to define the segment using 1 or 2 parameter than set the remaining parameter with 0.
For Eg. If you want to define the segment using recency only than set value of F and M to zero(0).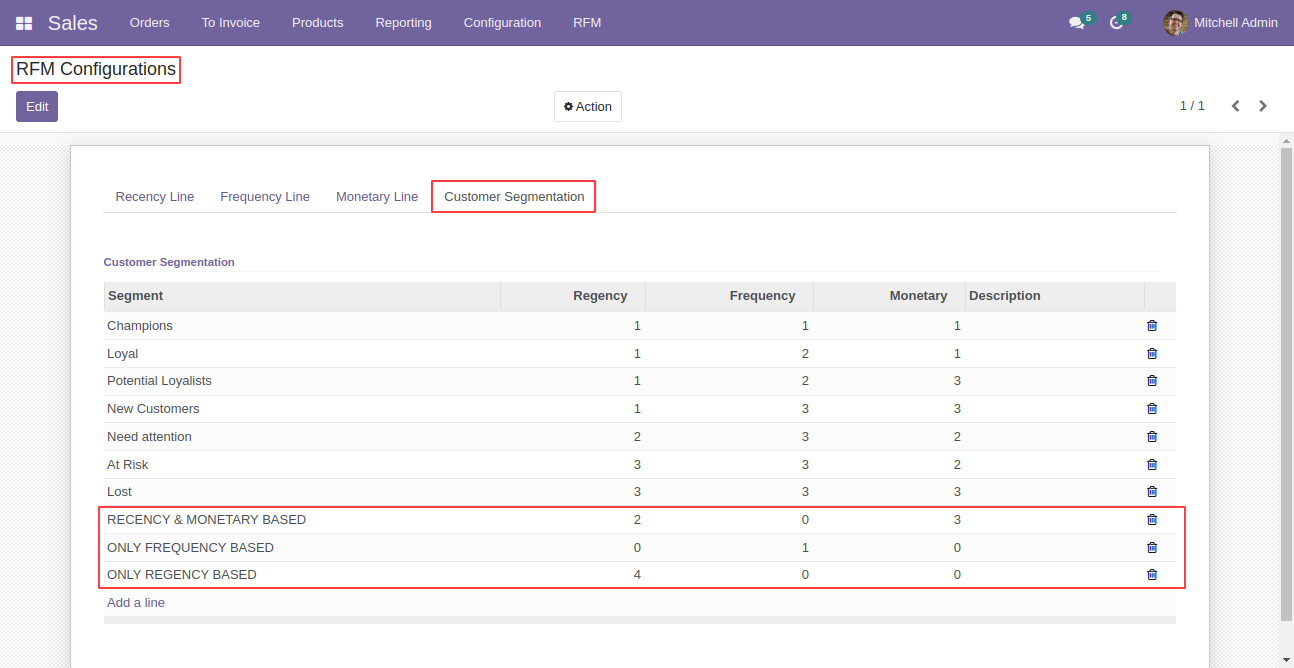 Now the customers are segmented using 1 or 2 parameters.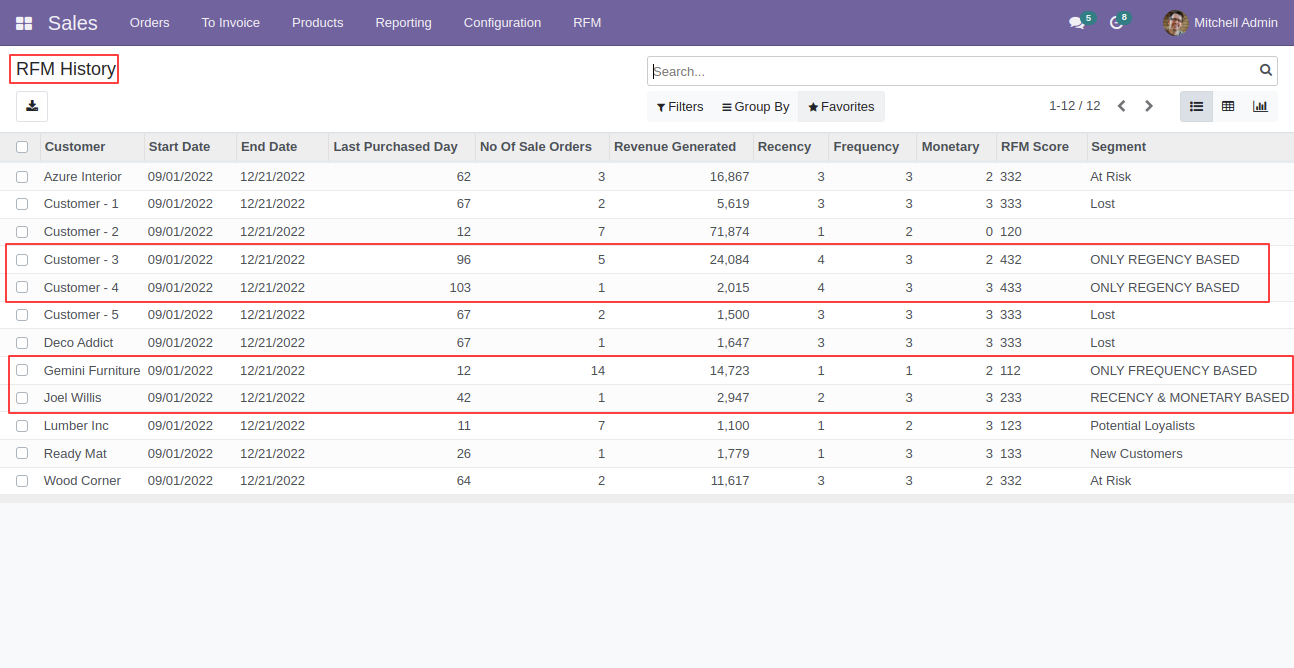 Version 16.0.1

| Released on : 4thJanuary 2023